At Carolina Custom Homes of Burlington, we consider ourselves extremely fortunate. We believe it is our duty, as Greensboro's most experienced custom home builder, to share our story with you. We're not going to claim credit where it's not due - after all, what good is a title if no one knows who you are? It took years of dedication and hard work to develop effective processes that make the experience the best for the home buyer.
Here's our process and a look at what makes Carolina Custom homes unique in its mission to deliver quality modular homes in Greensboro, NC.
Foundational Focus
Even the most robust-built house would collapse without a solid foundation. Sealed foundations keep moisture and vermin out, ensuring your family's safety and comfort while also ensuring that your home lasts for many years to come. We will never cut corners on any job we perform, especially not foundations.

Our team of custom home builders in Greensboro, NC has the training and experience to build your home on time and budget. We use the latest construction techniques and materials to ensure your home is solid, reliable, and beautiful.
Modular Home Customization and Variety
Because it shouldn't be so challenging to discover the ideal house, we offer more modular home floor plans than you could look through in an afternoon. Is a two-story place for a growing family appealing? Check. Is there anything better than an adorable tiny one-story ranch? Check. Do you desire to customize a perfect floor plan for your family? You've got it. As a custom home builder in Greensboro, Carolina Custom Homes is here to build modular homes in Greensboro, NC that are aesthetically pleasing and well-built.
As custom home builders in Greensboro, NC, we're proud to build custom-built homes for your family. We work closely with you every step of the way to ensure that your dream house becomes a reality.
Once you've picked out all of your preferences, like styles, appliances, and upgrades, you'll submit them to our builders for the last pricing quotes. Based on your likes, lifestyle, and budget, our staff will be able to recommend several improvements and features.
Check out our floor plans! You can customize your favorite, or Carolina Custom Homes can work with you to design and construct a home floor plan from scratch.
Efficient home building
What if we told you that constructing a house does not have to take 6-18 months? What if you could be in your new custom home in as little as a month? We've become the most refined custom home builder in Greensboro, NC because we've perfected the process of building beautiful modular homes.
Consider this - a home that has already been built and inhabited takes 30-60 days to finance with a rapid mortgage company. You may have precisely the house you've always desired in the same amount of time. Carolina Custom Homes is the custom home builder in Greensboro that will make this happen for you - and it's all because we have a streamlined process that allows us to build custom homes rapidly without sacrificing quality.
In addition, our modular homes are built offsite in a factory environment- meaning weather delays (which are all too familiar in the Carolinas) will have no impact on your new home. While our team is offsite constructing your house, we'll begin any site preparation, such as clearing and grading the property for your home.
Our Streamlined Process as Custom Home Builders in Greensboro
Phase 1:
Before we get started on your house, you should know where it's going to be placed. Whether you're purchasing land, already own the piece of ground on which you'd like to construct, or want to include buying property as a part of your collaboration with Carolina Custom Homes, you must have an idea where you'd want to reside.
Phase 2:
You'll design your perfect modular home in Greensboro, NC, with our experienced team. The homeowner chooses the most appropriate modular floor plan for their family first. Our designer will talk to the homeowner about our modular home customizations procedure, allowing homeowners to change their chosen floor plan to meet their needs.
During the personalized floor planning process, homeowners may ask our designers questions and see how their design will appear after being modified.
After quotes and agreements, we can start the building process!


Are you wondering how much a custom-built home costs? Check out our free eBook to learn more!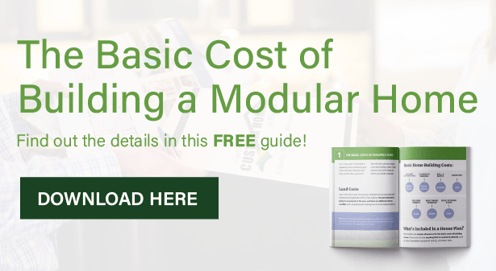 Phase 3:
Depending on the customer's preferences, we'll clear the land, dig a foundation for a basement or create a sealed crawl space once we've got access to building permits, an area of land, and your modular house plans. Land preparation implies removing trees, limbs, and other obstructions, as well as preparing the plot for your home.
After the foundations for your house are laid, we'll move the components of your home to your property and finish the building process on-site. Because the modules are manufactured offsite, you won't be delayed by bad weather or construction delays like you would if you built a standard house.
Phase 4:
When it's all done, we'll connect your utilities, add more siding, and install all of your appliances and fixtures. You're ready to settle in when we finish up with the final touches.
Our custom homes are efficient in Greensboro, NC because we have perfected the process. We know that you've got an idea of what you're looking for. Carolina Custom Homes will be custom home builders in Greensboro, NC, making your custom home dreams come true.
Contact Carolina Custom Homes today to get started on the custom home in Greensboro, NC of your dreams!
Customers Are Always Our Priority
You are the cornerstone of what we do! We have leveraged our combined experience to build you a forever home. Nothing is more validating than the look of a first-time homebuyer's face when they crack open that door for the first time or when a couple of first steps into their forever home. Those moments drive us, and we relish providing that service.
What truly sets us apart is our commitment to customer service. We want to be the custom home builder in Greensboro that you recommend to your family and friends - not just because of our beautiful homes but because of how we treat you throughout the entire process.
We know custom home projects can be daunting, and we want to walk you through them step-by-step. All of our custom homes are designed with current building regulations and codes in mind to ensure they exceed your expectations and regulations set by local and state governments. We never cut corners on your custom home project and always want to ensure that you're proud of the finished product.
We hope you will consider Carolina Custom Homes when looking for a custom home builder in Greensboro, NC. We are confident that we can exceed your expectations and provide you with the perfect home for your family.
We hope you'll choose us to deliver the perfect modular home in Greensboro, NC. Give Carolina Custom Homes a call today to gain the services of the best custom home builder in Greensboro.