There are many benefits to building a new home. With a new home, you can customize the floor plan and design details to meet your specific needs and choose energy efficient materials. Not to mention, you won't have to worry about major home repairs for years to come.
While the benefits of building your new home are great, you still have many things to consider when determining if you're ready to build.
---
Identifying Wants and Non-Negotiables
The biggest benefit to building a new home is deciding exactly what you will need and want in your home.
The best option is to make a list of features you're looking for in your home. This list should be divided into non-negotiables and wants. This will make deciding on a floor plan and working with a custom builder much easier. It will also determine how much home you need versus how much home you can afford.
If you have a large family the number of bedrooms and size of the kitchen may be non-negotiable areas, while having a pool may be considered a want.
Having this list will help you determine how much you will need to borrow, as well as features you can eliminate if your budget does not match your vision. This may also help you decide if it is the right time to build or if you should wait until you can afford everything on your list.
---
Getting Financed
After you have determined what you will need from your new home you will need to figure out how you will pay for it. 43% of home buyers paid cash for their homes in 2014. If you're in that group: Congratulations! However, if you are like the majority of home buyers you will need to get financing. While there are many loan options, it's important to know and consider the the differences between financing an existing home versus financing a new build.
Many lenders will not approve conventional loans for a new build. Instead, lenders will issue a 2 phase loan. This is known as a construction to permanent loan.
While the house is being built, the loan is considered a construction loan, meaning you will only make payments on the interest.

After the home is built and appraised the loan will convert to a permanent mortgage and you will begin to make payments towards the principal (amount borrowed).
You will need to be pre-approved for a loan and present documentation to the builder prior to starting the home building process.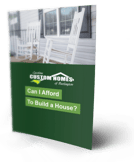 Our Ebook " Can I Afford to Build a House" will help you calculate
how much house you can afford.
---
Time
Unlike purchasing an existing home, it's likely you won't be able to move into your new build until it is completed. Building a new home can take anywhere from a few months to a few years to complete, depending on the type of home you are building and possible hiccups along the way.
Before deciding if you are ready to build your new home, you should determine how much time you have to before needing to move in. This can determine the type of house you build and even the right time to build.
---
Modular vs Site Built
Modular homes are a great option for buyers who are looking to get the most out of their investment. These homes are built off-site and never exposed to the elements before completion. They may also be an ideal option for home buyers with a tight deadline, cutting down the build time by 35%, as most modular homes can be completed in three to four months.
---
Finding Land
Whatever type of new home you decide to build you will need somewhere to put it. There are a lot of things to consider when buying land to build your new home.
Zoning restrictions, elevation, water rights?
Find a custom home builder who will work with you and a real estate agent to make sure your land meets your needs.
---
Reputation of the Custom Home Builder
The best way to know you're getting the most for your money is to research and meet with at least 3 builders. Choose builders with a variety of options, check reviews, and get to know the quality of their work.
It's important to do your research so you choose the right custom home builder for your new home.
Choosing the right home builder can make or break your home building experience. Be sure to find a custom builder who will work to make your home building experience easier.
---
Still have questions? Check out our webinar, Modulars 101: Your Guide to Customization to learn more about our home building process and customization options!