One of the biggest advantages of building vs. buying a new home is the ability to fully customize your home to get exactly what you want. You might think that building a modular home means having limited choices, but that couldn't be further from the truth. When building a modular home, customization options are available at every step, starting with the floor plan and ending with the colors, finishes, and add-ons!
Modular Home Customization Options
Floor Plan
When you buy a house, it can be a struggle to adjust to a floor plan that doesn't exactly fit your needs. Why go through that when you can start with a custom modular home floor plan created just for you? Browse for the perfect floor plan for your modular home or talk to your modular home builder about customizing one to fit your needs.
Ceiling Height
Add a touch of elegance to any room with high ceilings. Tall ceilings are a great way to add the illusion of space in a small room and can keep your home cool in the summer. With a modular home, you can customize the height of your ceiling to fit your style. Taller members of your family will thank you!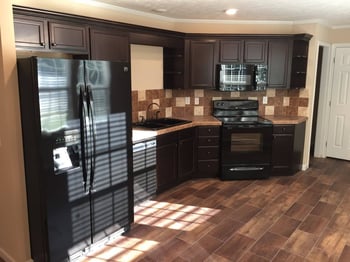 Appliances
Do you prefer black or stainless steel appliances? Matte finish? Whatever your preference, the choice is yours when you decide to build a custom modular home! Pick the appliances with the style and features you need to make your house work for you.
Flooring
With allergies becoming a major concern these days, carpeted homes aren't always on the top of someone's list, and replacing old carpet can be a costly and time consuming chore. Get your home built right the first time by customizing your flooring choices. Hardwood, laminate, and even sustainable bamboo flooring are all popular choices.
Countertops
Have you been dreaming of a kitchen with beautiful high-end granite countertops? Rather than spending time updating your old, outdated countertops, start with a home that has everything you need. With a custom modular home, you can have everything you want right away.
Other Add-Ons to Consider:
These add-ons might not be necessary for you and your family right away, but they can add to your home's resale value, enhance your curb appeal, and offer your household room to grow as you continue to enjoy your new dream home!
Garage
Basement
Sunroom
Finished attic space
Landscaping