Baby it's cold outside! Spring is off to a cold snowy start but what better way to welcome in the season of new beginnings than fresh new home decor! Here are tips to bring spring into your home when winter weather is holding on outside.
---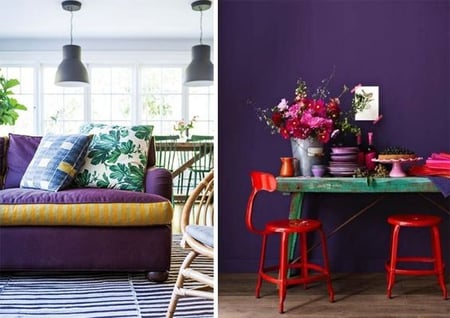 Add Some Color
Color is a great way to bring character to your home and Pantone is the authority on color.
Pantone announced Ultra Violet as the color for 2018. It's the perfect spring color. Go bold or keep it subtle, either way, Ultra Violet adds a pop of personality to any space. A couch or an accent wall are great ways to keep your decor functional and fun.
If a purple couch is not your style or paint isn't in your budget, introduce small pops of Ultra Violet into your decor. You can find a wide variety of color schemes which will help you fit Ultra Violet into your own, unique style.
Ultra Violet isn't for everyone but pops of color are the perfect way to celebrate spring. Add touches of bold bright colors or classic, soft pastel tones. Playing with colors is a great way to celebrate spring with your decor.
PHOTO: www.pinterest.com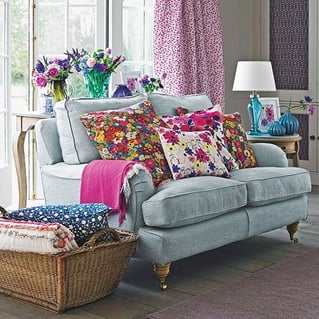 Bring Outside Inside
April showers bring May flowers, but you don't have to wait for May to add floral elements to your home. A cute centerpiece, of real or fake flowers (we won't tell!), or an eye catching floral print pillow will have you feeling like spring whenever you want.
Maybe you are longing for the lush green fields Spring brings or flowers aren't your thing. Plants and accents of greenery are the perfect way to bring life (literally!) into your home. Try adding some rich greenery like Eucalyptus or Ivy - these are perfect for adding drama to a fireplace or walkway.
PHOTO: www.pinterest.com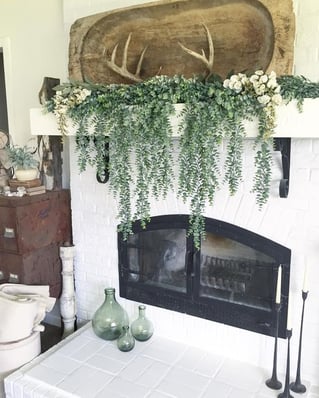 PHOTO (left): Katelynchantelblog.com PHOTO (right): Casaejardim
---
Whatever you decide for your decor, be sure to have fun!
There is no one way to decorate your home for spring. Get creative and try different things until you find your spring home decor style. Whether you go for classic florals, paint a bright, jewel-toned accent wall, or cover your home in natural greenery - you'll be feeling the liveliness of spring in your home all season!