Difference Between a Modular and Manufactured Home
Driving down the road you see a home for sale that you absolutely love and it fits your budget. Excited, you reach into the brochure box to look over the details when your eyes fall upon the type of home: modular. You look from the brochure to the house, confused as to how this beautiful two-story home of your dreams is a modular home when it looks like it was built right there on the lot.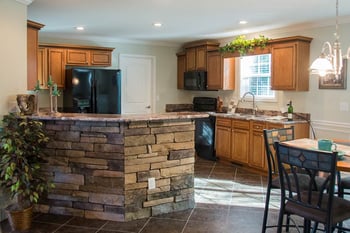 Modular homes often look similar to site-built homes but can cost less while still offering the appearance buyers want.
Many modular homes offer hardwood floors, dining rooms, spacious bedroom, and other positive attributes offered by site-built homes; however, modular homes are built in factories off-site then assembled by local contractors on-site. The homes still meet all code requirements for the site location, as the sections of the home are built according to the codes then put on semi-trailers and delivered to the home-site.
Modular homes, like site built homes, will grow their value over time, but, as with all homes, this is dependent upon the care and maintenance put into the home.
Manufactured homes are what people typically refer to as mobile homes or trailers and are solely built in a factory.
The standards by which manufactured homes are built are federal in nature, not local, and the homes do not maintain their value as easily over time. Built on steel chassis and delivered to the desired location, manufactured homes are delivered on their own wheels with multipart homes being joined onsite at the final location. While the name itself may be a turnoff for potential buyers, manufactured homes offer several newer styles than in the past; many do not resemble the trailers of old.
Ultimately, whether you invest your money in a modular or manufactured home depends upon a few factors, such as budget and personal preference. For a home with many rooms, multiple levels, and other aesthetically pleasing factors; you may want to look into building a modular home. However, for a smaller budget but a home that still has a lot to offer; a manufactured home may be more your style. Whatever the case, both types have a lot to offer potential buyers.
If you want a completely custom home, built in a controlled environment, that is also more energy efficient, then you want a modular home. And, we promise, you won't be able to tell the difference between your modular home and a site built home!