If you're building a custom home, you're probably focused on what you and your family want most in your new home. Walk-in closets, a big back patio, and a beautiful modern kitchen are all high on wish lists, but not many people consider how their customizations will affect their ability to sell the home later.
After all, a house is a major investment, and it's important to consider the future of your home even if you aren't planning on moving anytime soon.
---
These 5 factors will affect your home's resale value:
1. LOCATION
It's always location, location, location. This doesn't only mean the neighborhood, but what's nearby as well. Good schools, nearby shopping, crime rates, and surrounding property values are just a few of the location factors that go into how highly a house for sale
is valued.
2. SIZE AND LAYOUT
Believe it or not, smaller houses are becoming more popular than large, oversized homes. For today's homebuyers, the layout of the home is much more important than a hefty square footage listing. Functional layouts and open concept houses tend to have a higher resale value.
3. AMENITIES AND UPGRADES
A need for renovations can diminish a home's resale value, so don't skip some of the essentials just because they seem too expensive. Investing in these upgrades during the building process will pay off later when you're ready to sell your home:
Updated kitchen

Master bathroom

Walk-in closets

Extra storage space

Garage

Outdoor space
4. STYLE
It's tempting to go all-out with the style of your custom home and choose something truly unique, but if resale value is on your mind, most real estate agents will tell you it's better to go for a more traditional style. Avoid super modern and unusual home styles, especially if they don't "fit" with the surrounding houses in your neighborhood.
Inside your home, avoid features like bulky columns, shag carpet, and other outdated style choices. If you can't live without them, plan on several renovations when you're ready to sell your home later.

5. CONDITION
Are you selling a home that looks as great as it did the day you moved in or is it in need of some repairs and renovations?
A majority of homebuyers today are looking for move-in ready homes rather than a fixer-upper. In fact, many buyers have admitted to being willing to spend a little more for a house that doesn't need any updates or repairs. So take care of your home, inside and out!
---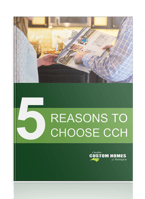 It may be hard to imagine selling a house you haven't built yet, but thinking ahead can
pay off later. For more tips on what to consider during the home building process and the many benefits of working with Carolina Custom Homes, check out this free resource below!